The country's preeminent celebration is fun for everyone.
Every visitor to Vientiane will inevitably visit That Luang (the Great Stupa). This large golden spire encircled by 30 smaller spires, is the symbol of the nation and seen on everything from banknotes to t-shirts and instills a pervasive sense of pride among Lao people.
According to the chronicle of the stupa, in 307 BCE, a delegation of Buddhist emissaries traveled around the area to spread the religion and brought along some of the Buddha's bone fragments. These revered relics were placed inside a simple stone mound built on this site. Many wars and renovations followed in the ensuing millenia giving us the final monument seen today. 
Each year, in the week leading up to the full moon of the 12th lunar month (usually in November, but exceptionally this year on 31 October) the temple grounds erupt in a large festival, one of the largest in Laos. People from all over the country make the pilgrimage to Vientiane for this festival.
Visiting That Luang Festival is a treat for the senses. A market fair is set up on the esplanade, where you can wander the stalls to find locally-made products such as traditional silk sinh wrap skirts, musical instruments, coffee, and tea, as well as imported mobile phones and household goods. Locals visiting from other regions of the country buy these as souvenirs and gifts to take back home. Walking through, you are hit by fragrant smells of all manner of ready-to-eat food, such as grilled chicken, sticky rice cooked in bamboo, meatballs, and fried noodles.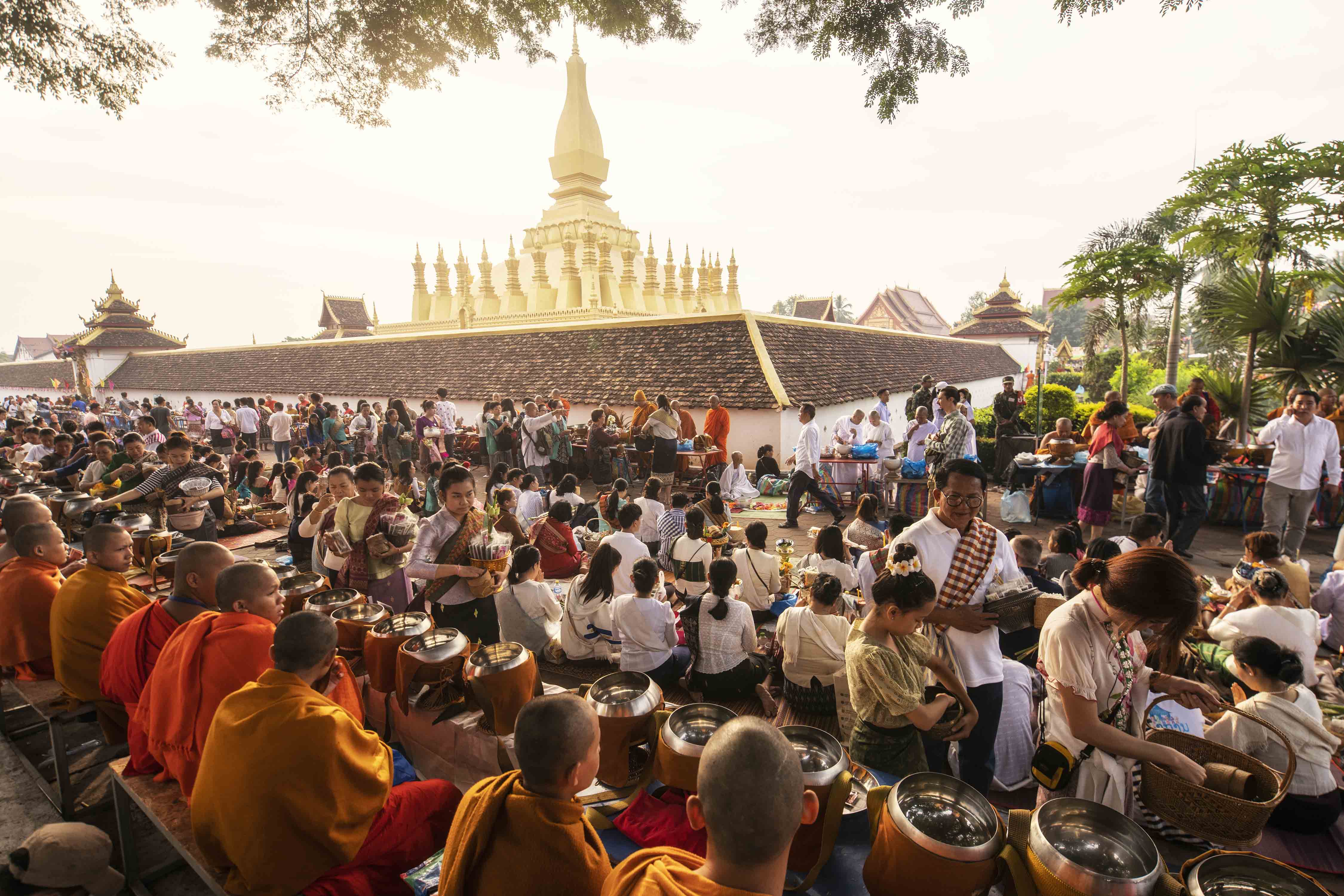 Several stages are also erected at the market fair with a revolving set of cultural performances to delight the crowds from all over the country. These often include school groups performing traditional music and dances, as well as famous singers of mo lam, traditional folk music of jaunty lyrics sung to the pounding wails of a khaen, the traditional bamboo mouth organ. A midway with amusement rides also brings delight to teenagers who flock to see and be seen on the Ferris wheel and bumper cars.
Fervor and crowds build throughout the week, culminating in a procession on 30 October from Wat Si Meuang to That Luang. Locals dress in their traditional clothes and carry large homemade offerings, called wax castles, adorned with wax flowers and candles. These are a sign of great respect for the Buddha relic entombed inside the stupa.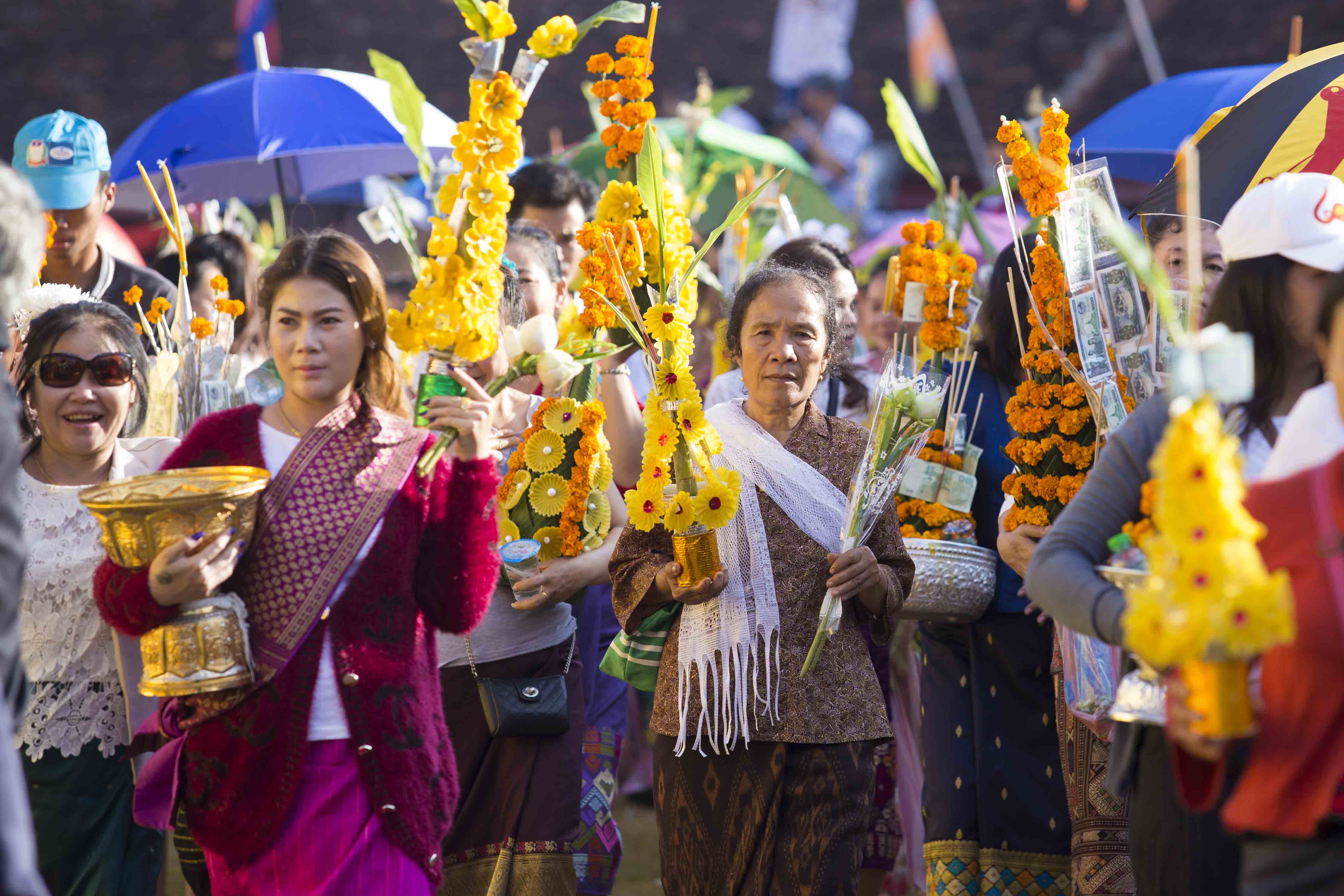 On the early morning of 31 October, locals dress in their finest silks and jostle for room on the esplanade as hundreds of monks wander past collecting alms. Later in the day, a traditional game of tikhy, similar to field hockey using curved bamboo sticks and a rattan ball, is played between symbolic teams representing the government and the people. This friendly game is only played once a year. When the government team wins, it is a sign that the people will be fairly governed, yet when the people's team wins, it is a sign that there will be no hunger and there will be good luck and prosperity for the next year. This is definitely a win-win situation!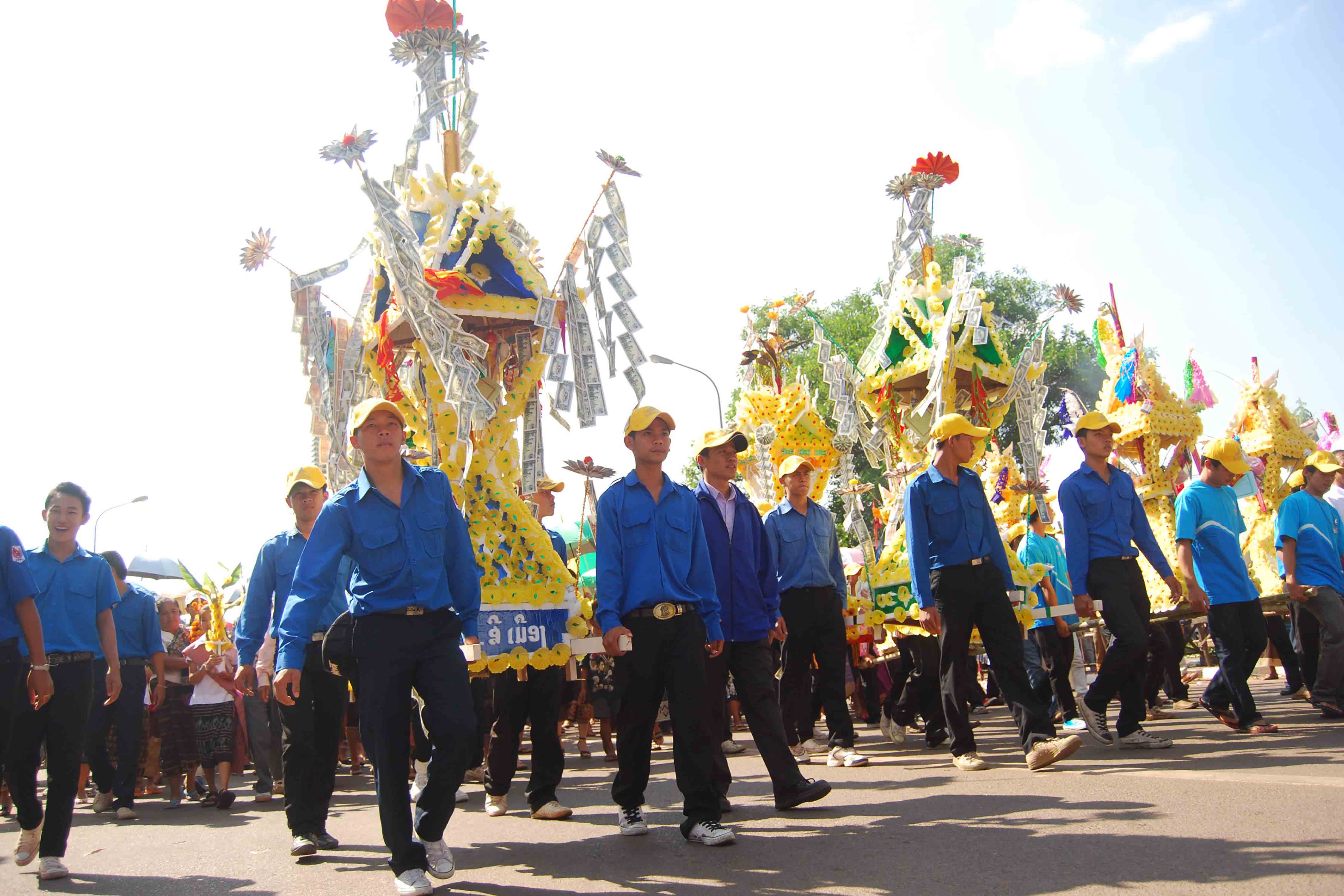 Finally, that evening, worshippers will visit That Luang stupa one more time carrying flowers, incense, and candles and circumambulate three times around the stupa asking for blessings and good fortune from this holy site. Good luck will allow us all to visit That Luang Festival again next year!
A Brief History
of That Luang
307 BCE  
Buddhist relics interred in a stone mound
1566 CE  
That Luang is renovated by Xaysetthathirath
1828  
The city is sacked by Siam, That Luang
is damaged and left in ruins
1900  
France begins several restoration
attempts of the stupa
Text by jason rolan
PHOTOGRAPHS BY Phoonsab Thevongsa