Lao Airlines' new uniform serves haute couture at high altitude
Even in the modern era, one cultural tradition that has remained a source of pride for the Lao people is the traditional costume for women, which conveys their unique identity. Since the beginning, Lao Airlines uniforms have always incorporated the Lao traditional style with a sinh skirt, a silk blouse with a wrap collar, and even a pha bieng shoulder scarf.
In keeping with this inspiration, Lao Airlines is pleased to announce the launch of a new uniform for female cabin crew and ground staff, designed by Tina Lao Silk. Centered around the frangipani, the national flower of Laos and symbol of Lao Airlines, the new uniform design symbolizes the richness of traditional culture amid modern progress.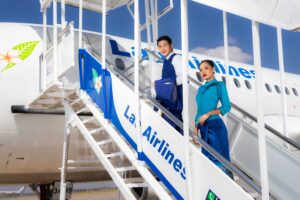 The design of the uniform draws inspiration from Lao traditional floral patterns found in handmade weaving. The overlapping petal shape of the neck scarf is both elegant and contemporary, yet perfectly complements the traditional sinh and shoulder scarf. The updated blouse is a lighter shade of blue, while the Lao Airlines logo is woven into the cloth, with slightly different styles for cabin crew and ground staff. The cotton fabric allows ventilation well suited to the climate and greater ease of movement. This contemporary look is truly suited for the runways of both fashion shows and airports!
MORE INFO
These new uniforms are not yet replacing the old uniforms. The new uniforms are worn every Monday, Wednesday, Friday, Sunday, on special flights, and on the flights to Korea.
Text & photographs by Lao Airlines