How DMITH is transforming the hospitality industry in Laos
Just outside Vientiane's bustling downtown lies the newly-opened DFICT Mastery Institute of Tourism and Hospitality (DMITH), currently in a soft opening phase until the end of October. Established by the acclaimed hospitality training provider, DFICT, this institute is set to become a transformative force, empowering individuals with the skills and knowledge to excel in the hospitality industry. Offering 15-day focused courses to 6-month comprehensive programs, the institute will develop generations of aspiring professionals, opening doors to a world of opportunities and personal growth.
Under the guidance of seasoned trainers, the institute's curriculum is based on international standards and carefully curated to encompass various facets of the hospitality industry. Course topics include housekeeping, food and beverage service, front office, workplace safety and hygiene, human resources, bakery, food costing and presentation, bartending, barista, spa services, and landscaping, students are exposed to a comprehensive range of subjects, including foreign language instruction, that equips them with a well-rounded skill set.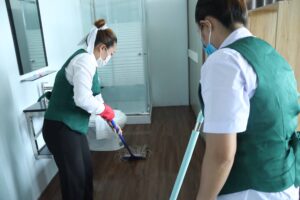 For many students, the journey at the DMITH is more than just a training course — it is a life-changing experience. The institute welcomes individuals from diverse backgrounds and walks of life, including rural youths seeking to break free from the limitations of their circumstances, as well as current professionals looking to level up their skills. Aspiring chefs, bartenders, waiters, and front-desk managers, come together to learn and grow under one roof, fostering a sense of unity and camaraderie.
Throughout all of the programs, students are encouraged to push their boundaries, embracing challenges with determination and resilience. The curriculum combines theoretical knowledge with hands-on training, enabling students to gain practical experience that prepares them for the dynamic demands of the industry. DMITH also partners with a nearby hotel to offer real-world experience in various hospitality tasks.
Graduates of this program are also in high demand from Laos' leading hotels. DFICT founder, Chounlachan (Nickie) Phengdy remarks "The interest from hotels and service providers in hiring our graduates is very encouraging. All of our students have jobs waiting for them when they complete the course. There is a great demand for skilled hospitality staff right now, so we want to do our part to fill this need for the benefit of our country, our students, and for travelers who come to Laos."
In keeping with its commitment to social impact, DMITH actively reaches out to rural communities, offering scholarships and financial assistance to deserving candidates who lack the means to pursue formal education. To encourage these students, programs include travel costs from their homes to Vientiane, as well as room and board. "Upgrading skills in the Lao tourism industry means we need more manpower. Tourism is a great way for underprivileged people to change their lives and break the cycle of poverty," asserts Nickie. By empowering rural youths with the necessary skills, the institute opens doors that were once unattainable, breathing life into dreams and aspirations that were once confined to remote villages.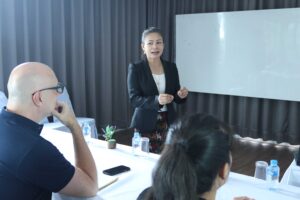 Graduates from these rural backgrounds return to their communities as beacons of inspiration, instilling hope and igniting a desire for personal growth among the younger generation. This ripple effect has the potential to transform entire communities, propelling them toward a brighter and more prosperous future.
As the institute moves into full operation, its impact on the hospitality industry in Laos will be undeniably profound. Through DMITH, DFICT has cemented its position as a driving force for change, empowering individuals to rise above circumstances and carve their paths toward success. As aspiring professionals walk through its doors, they are greeted with an abundance of opportunities and a promise of a brighter future—an invitation to embrace their dreams and embark on a journey of transformation.
Text BY Jason Rolan
PHOTOGRAPHS BY Nouthaphone Simmavong