The main sanctuary of Wat Phou, originally dedicated to Shiva, now is a pilgrimage site for Buddhists.
The Wat Phou temple complex is a masterpiece of human creativity with its detailed artistic work and the symbolism of Hindu cosmology integrated with the natural landscape. The resulting expression of these ideas is a unique fusion of indigenous nature, religious imagery, and technical prowess.
Wat Phou is a major example of both early and classical Khmer architecture and its construction spanned the 7th–12th centuries AD. The complex was the focal point of a sophisticated community centered on the Champasak Plain, encompassing Phou Kao Mountain to the west and the banks of the Mekong River to the east.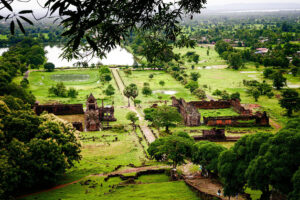 Sometime in the 13th century, the Kings of Angkor converted to Buddhism, and all of their temples adapted to these new beliefs, including Wat Phou, which still holds important religious functions today.
1. The lower levels of Wat Phou from above feature a large man-made baray reservoir and two elaborately carved quadrangles.
2. The quadrangles were probably used for ceremonial purposes and date from the 11th century.
3. Buddha statues were added in more recent times after the temple was converted from a Hindu shrine.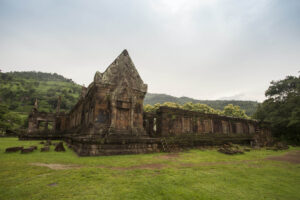 1. During the full moon in February, Wat Phou holds the largest festival in Southern Laos. In this photo, locals make merit by releasing floating lanterns.
2. Wat Phou Festival lasts several days and is attended by thousands of people.
3. Fluorescent lighting brings a carnival-like atmosphere while pilgrims bring candles and incense to the temple.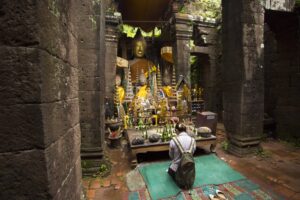 1. Lao people also make merit by donating new robes for the Buddha images.
2. Monks also come from all over the country to participate in a large almsgiving ceremony.
3. North of the main sanctuary are large rock carvings of an elephant and a crocodile which date from the 7th century.
4. Behind the sanctuary is a natural spring of sacred water that runs from a sacred rock formation on top of the mountain. In ancient times, waterways were constructed to divert this water to continually bathe a sacred linga stone inside the sanctuary.
5. Local people collect and use the sacred water for prayers and blessings.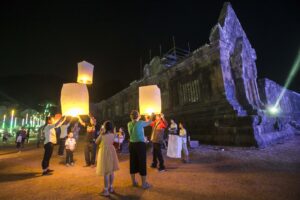 Getting there
Lao Airlines has regular flights from Vientiane to Pakse.
MORE INFO
Wat Phou Festival occurs in mid-February 2022.
Text BY Jason Rolan
PHOTOGRAPHS BY Phoonsab Thevongsa