Pockets of tranquility can be hard to come by as you drive through the bustling villages of Vientiane Capital. But as you pull off a busy road in bustling Nongthatai Village, and into the manicured gardens of the Lao Textiles Museum, the sensation is a little like stepping back in time.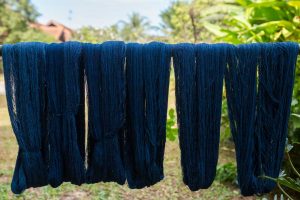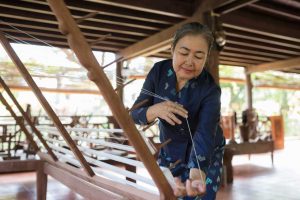 Traditional wooden structures are scattered on the wide green lawns, and the sounds of the city feel far away, especially as you step into the cool interiors of the weaving rooms. Here, the emphasis is firmly on the past, as weavers use traditional looms to recreate the familiar textures of the antique fabrics that decorate the walls.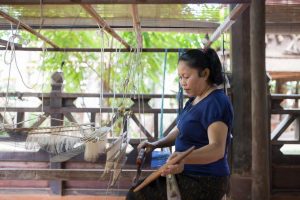 The museum has been a labour of love for the family that owns the property. When tourists first started taking an interest in pre-war textiles from northern Laos in 1980s, Hansana Sisane felt proud of his country's heritage. His wife's grandmother had been a traditional weaver in Xieng Kouang province, where she wove and dyed fabrics using age-old natural techniques.
But when he watched many of these examples of old traditions passing into the hands of foreign collectors, he realized it could spell the end of an important part of traditional Lao life. He and his wife – both then public servants in Vientiane – began to build their own private collection, adding to the family pieces they already had.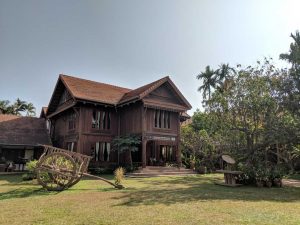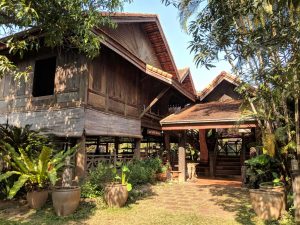 "It was a way of preventing old textiles from disappearing. At the time, there were no official policies in place the preserve such things," he says now, nearly 40 years later.
After the war, few ethnic groups resumed their old weaving practices. His wife, Bouasonkham Sisane, wanted to help restart the industry as the country recovered from years of political upheaval, and opened a textiles shop, Kanchana – The Beauty of Lao Silk, near That Dam in downtown Vientiane.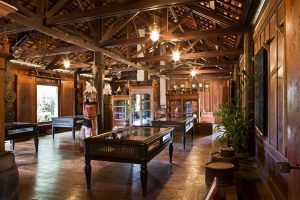 "After the war, lots of people from the north came down to Vientiane with knowledge and information about weaving, but no means of setting up workshops, no capital," he says. 
"We used our own money to purchase looms and paid weavers a salary. We thought it was better to produce new things to sell, and preserve old things that were made using weaving techniques that would otherwise have been lost forever."
Eventually, in 1990, they set up their own museum, housed in traditional structures on their land in Nongthatai Village, based on their research of old-style houses across the country. There, they displayed examples of textiles from various ethnic minorities, explained the historic context for the different ways they were used in everyday life, and held weaving demonstrations four tourists.
"We wanted to preserve the old ways of weaving and show guests the process of how textiles are made," he says.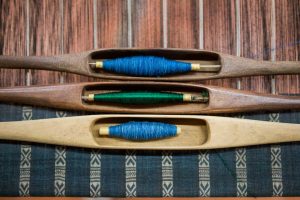 "There are many different techniques in weaving, and some have been lost almost completely, and have now come back because we can use machines. Machine-made fabrics are smoother and faster to produce, but nothing is the same – for locals or tourists – as handmade textiles."
The Lao Textiles Museum, as it is known, also makes natural dyes onsite, and occasionally runs weaving classes. The venue can get quite busy on weekends, but on quieter days during the week, there is plenty of opportunity to wander the lush gardens and drink in the historic atmosphere.