Embracing the piet vine bag phenomenon
Nestled in picturesque valleys and rolling hillsides, Laos' Oudomxay Province is drawing attention for its eco-fiber bags made from a vine called piet. Handcrafted and used by Khmu artisans for centuries, piet vine bags are enjoying a newfound popularity among fashionistas, eco-fiber enthusiasts, and contemporary designers. Here's everything you need to know about Laos' most sustainable handicraft!
Stroll the historic lanes of UNESCO Luang Prabang or the town's iconic night market, and you've no doubt seen a piet jungle vine bag. Handcrafted by Khmu women living in remote villages in northern Laos' Oudomxay Province, piet bags are traditionally used to make straps for baskets and bags for foraging and carrying tools. Design collaborations and increased market access have helped piet bags make the leap from rustic, functional village craft to modern, must-have accessories.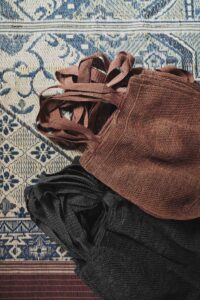 Piet (scientific name: Pueraria phaseoloides) is a forage and cover crop that is also known as puero or tropical kudzu. The plant grows particularly well in the northern highlands of Laos, as well as in northern Thailand and southern China. Its creeping or coiling vines grow up to 10m long. Because its roots harness water and stem soil erosion, piet is tolerated and even encouraged by farmers.
Ban Mang, a small mountain village tucked in a narrow valley in northern Laos' Oudomxay Province, is the epicenter of piet weaving in Laos. Here, the majority of women still make piet bags and accessories for personal use and for sale.
The journey to Ban Mang is not for the fainthearted. Situated 300 kilometers northwest of Luang Prabang, Ban Mang village is home to roughly 150 Khmu families, most of whom are farmers and piet artisans. Prior to the arrival of the Laos-China Railway (LCR), the drive from Luang Prabang took at least six hours, most of it on dirt roads that twisted and turned through narrow, picturesque mountain villages and valleys. Now, it's possible to go via the LCR from Luang Prabang to Meuang Xay, Oudomxay in 45 minutes. From Meuang Xay, it is another 2 hours by road to Ban Mang.
Piet is harvested during the rainy season. "At the beginning of the rainy season, villagers go to their upland rice paddies to plant rice," explains Soulinda Philiminda, Head of Production and Design at Ock Pop Tok, a handicrafts center and boutique in Luang Prabang. After planting, men and women usually stay a few days near their paddies to safeguard their newly planted fields. During this time, women will harvest jungle vines growing near the rice paddies or in nearby forests.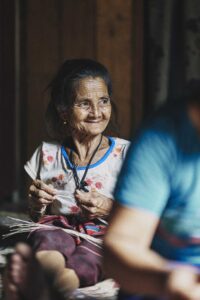 After harvesting, the vine is dried in sunlight, then soaked in the river to remove the bark. The piet is taken back to the village. Khmu women work collectively, pulling apart the fiber into strands and then rolling them along their calves. The ends of the fibers are rolled together to make a longer yarn. After the yarn-making is complete, it's time to start knotting! The process is similar to crochet, and the knots are similar to those used in making fishing nets.
Historically, Khmu communities traded bags with Tai Lue, Akha, and Lanten communities, among others, for rice, cloth, and tools. It's still possible to see the bags in use across northern Laos. Increasing demand for agricultural products such as tea, bananas, and corn, and pressure to migrate to cities have led to a general decline in piet production.
In spite of the rising demand for contemporary piet bags, there remain challenges. Changing climate conditions disrupt the growth and availability of piet vines. Additionally, the pressure to cultivate agricultural products such as bananas, corn, and tea for the Chinese market, has resulted in a general shift away from piet making.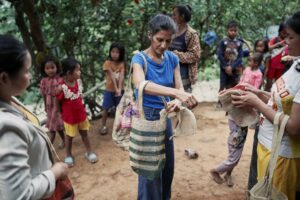 "Opportunities for income are limited in these communities," states Thongkhoun Soutthivilay, co-director of the Traditional Arts and Ethnology Centre (TAEC). "Piet bags can help women to earn income, while still leaving time for farming and domestic work."
For the past three years, Ock Pop Tok has partnered with Geneva-based Enhanced Integrated Fund (EIF) to assist piet producers with design and marketing. New piet products made through this collaboration can be seen at OPT's boutiques in Luang Prabang and on their website.
Similarly, the TAEC Boutique and Museum Shop in Luang Prabang, Tai Baan in Vientiane, and Tikkiwallah in Chiang Mai stock fair trade piet bags co-designed with Khmu artisans in Ban Mang.
Where to buy
Luang Prabang
TAEC Museum & Boutique | Wat Nong Village | taeclaos.org
Ock Pop Tok Boutique | Wat Sene Village | ockpoptok.com
Luang Prabang Night Market | Pakham Village
Vientiane
Tai Baan | Wat Chan Village | taibaancrafts.com
Chiang Mai
Tikkiwallah | tikkiwallah.com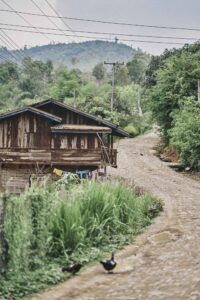 Text BY Rachna Sachasinh
PHOTOGRAPHS BY Aaron Joel Santos