Amplifying sustainable travel through Lasting Laos and Travelife certifications
As the demand for sustainable and responsible tourism experiences continues to surge, attaining sustainability certifications like Lasting Laos and Travelife can significantly boost your business. These credentials serve as beacons of commitment, shining a light on those companies that have taken concrete steps toward a more sustainable and responsible future. But what exactly do these certifications entail, and how can they give businesses an edge?
Understanding Sustainability Certifications
Sustainability certifications serve as badges of honor that denote a business's commitment to environmentally friendly and socially responsible practices.
The Lasting Laos certification is a homegrown initiative by the SUSTOUR Laos Project, funded by the European Union, and administered by the Lao National Chamber of Commerce and Industry. This certification is specifically tailored for tourism businesses in four sectors: Transportation, Food & Beverage, Handicrafts and Souvenirs, and Cultural Excursions. It is awarded to businesses that champion sustainable practices, make a positive impact on local communities, and minimize their environmental footprint.
Conversely, the Travelife certification, managed and facilitated by the European Centre for Eco and Agro Tourism (ECEAT), a partner of the SUSTOUR Laos Project, is a globally recognized mark awarded to tour operators, travel agents, and accommodations. It signifies these businesses' dedication to responsible practices in their operations. These certifications are not just a testament to a business's commitment to sustainability but also provide assurance to consumers that their choices contribute positively to the planet.
The Business Value of Certifications
Certifications such as Lasting Laos and Travelife are more than moral accomplishments – they are strategic marketing tools that propel business growth. By displaying these certifications, businesses showcase their commitment to a sustainable future, setting them apart in a competitive market where consumers increasingly prioritize eco-conscious travel options. The certification process also encourages businesses to improve operational efficiency, often leading to cost savings in the long run.
Consumer Perspective and Trust
For consumers, these certifications act as a guide, steering them towards businesses that resonate with their values. They offer assurance that the consumer's travel choices contribute positively to environmental conservation and social development. As consumers increasingly choose businesses that bear these 'green' badges, the market landscape shifts towards more sustainable practices, making these certifications a powerful marketing advantage.
Highlighting Challenges
Although the benefits of sustainability certifications are significant, it is essential to acknowledge that obtaining and maintaining these certifications can pose challenges for businesses. Some common challenges include:
1. Resource Constraints: Smaller businesses may face resource limitations in implementing sustainable practices and meeting certification criteria. Financial investments and training efforts may be required to align their operations with rigorous sustainability standards.
2. Changing Business Practices: Adopting sustainable practices often requires a shift in established business processes. This transition may require time, commitment, and adjustments to ingrained habits, which can be challenging for some organizations.
3. Community Engagement: Engaging with local communities to ensure positive impacts and minimize the negative effects of tourism can be complex. Businesses may need support in identifying the best ways to collaborate and support local development.
4. Monitoring and Reporting: Sustainability certifications involve ongoing monitoring and reporting of environmental and social impacts. This process can be demanding and requires businesses to maintain accurate records and data.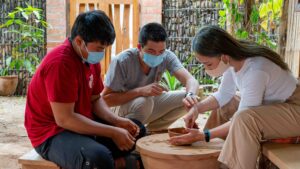 How the SUSTOUR Laos Project is Supporting Businesses
To address these challenges and support businesses on their sustainability journey, the SUSTOUR Laos Project offers valuable assistance:
1. Guidance and Training: The project provides guidance and training to businesses seeking certification. Workshops and coaching sessions help companies understand the certification criteria and how to integrate sustainable practices effectively.
2. Access to Resources: The project can connect businesses with resources, tools, and best practices to implement sustainable initiatives without overwhelming their budgets.
3. Community Partnerships: SUSTOUR Laos facilitates connections between businesses and local communities, fostering collaborations that benefit both parties and contribute to sustainable development.
4. Streamlining Certification Process: The project can streamline the certification process, making it more manageable for businesses to navigate the requirements and procedures.
A Lao Perspective: The Power of Certification
Consider the case of a local tour operator in Laos who obtained the Travelife certification. After implementing sustainable practices across all operations – from office administration to tour planning – the operator not only reaped the benefits of cost savings but also began attracting a new segment of eco-conscious travelers. This improved market position led to further investment in local communities, initiating a positive cycle of sustainability and growth.
Additionally, the Travelife certification proved to be an invaluable asset when dealing with overseas tour operators. It's common for foreign operators seeking partnerships to have stringent sustainability criteria. The local tour operator was able to use the Travelife certification standards to align with these requirements smoothly. Thus, the Travelife certification not only validated their sustainability efforts but also facilitated new global partnerships, extending their reach into new markets.
The Global Relevance of Certifications
It's important to note that while the article primarily discusses the case of Laos, Lasting Laos and Travelife certifications have broader global recognition and relevance. Eco-conscious travelers worldwide actively seek businesses with sustainability credentials, making it a universal trend that businesses can tap into.
How to Get Certified
While the certification processes for Lasting Laos and Travelife differ, both involve a comprehensive assessment of a company's social, environmental, and economic impact. Businesses interested in becoming certified are encouraged to reach out to the SUSTOUR Laos Project. Our team is readily available to guide you through the process, consult on the relevant guidelines from each certification body, and offer assistance throughout the application journey.
Importantly, the SUSTOUR Laos Project is offering businesses the chance to apply for these certifications free of cost until July 2024. Alongside the application, the project provides relevant training and coaching, assisting businesses in achieving their sustainability goals. This opportunity creates the perfect springboard for businesses to enhance their sustainability efforts and gain recognition for the same.
Conclusion
Sustainability certifications like Lasting Laos and Travelife offer remarkable benefits to businesses, consumers, and the environment. While they showcase a commitment to responsible travel, they also present challenges that businesses must address. With the support of initiatives like the SUSTOUR Laos Project, businesses can navigate these challenges and embrace a more sustainable and profitable future, creating a positive impact on both their industry and the world at large.
Now is the time to take action and make a difference! If you're a tourism business seeking to amplify your commitment to sustainability and gain a competitive edge, consider applying for Lasting Laos or Travelife certifications. Reach out to the SUSTOUR Laos Project today to discover how these certifications can elevate your brand, attract eco-conscious travelers, and contribute to a greener, more responsible tourism industry. Together, let's make sustainable travel the norm and lead the way toward a brighter, more sustainable future for our planet.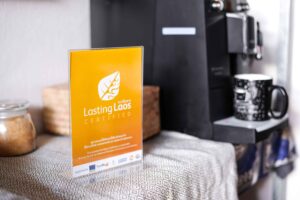 Text & PHOTOGRAPHS BY The SUSTOUR Laos Project
MORE INFO
SUSTOUR Laos Project Office (LNCCI building) Kaysone Phomvihane Ave, Phonphanao Village, Saysetha District, Vientiane Capital, Lao PDR P.O. Box: 4596