A guide to souvenirs from Luang Prabang
Looking for souvenirs? Short on ideas of what to take back for your aunt or the neighbor feeding your cat? The mementos you bring home from Laos are great reminders of your wonderful trip. Laos, like many Asian countries, has a very rich handicraft heritage and a wealth of unique souvenirs you can't find anywhere else in Asia. Here are our top 10 souvenirs from Luang Prabang with tips on where to find them in the former royal capital.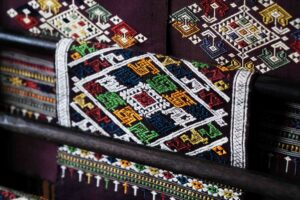 Silk
Laos is famous for silk, as it is entirely handmade from start to finish. Loom weaving is time and labor-intensive and the weaving of especially intricate designs can progress only a few centimeters per week. Silk is dyed using local plants and produced for use in clothing and household decor. Designs can provide clues to their background and origin, and can also tell stories. If you want something truly unique take home a Lao tube skirt, or sinh, which is easy to wear, beautifully crafted, and comfortable.
Find it at the Night Market, Ban Xang Khong, and various boutiques around town.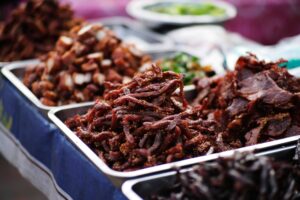 Sin Savanh
Literally "heavenly meat", sin savanh, or Lao jerky, is a protein-rich snack you see stacked up in piles at the market. Savory yet sweet, chewy, and glossy, covered with sesame seeds these sun-dried buffalo strips are tasty and go down well with beer. It is always easy to squeeze a bag of Lao jerky into your suitcase for the gourmands in your life – if you don't eat it first!
Find it at the Night Market or Morning Market.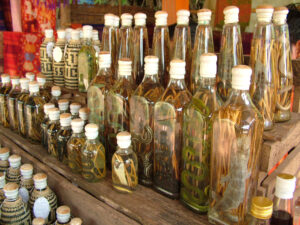 Lao Lao
Lao Lao is the tipple of choice for weddings and other ceremonies. A type of whiskey distilled from sticky rice and high in alcohol content, it bears a resemblance to sake in taste. Lao Lao goes down a bit better when chilled and even pairs well with pineapple juice. Please drink responsibly, as it can knock you off your feet. You can find bottles very cheaply in most shops if you want the run-of-the-mill varieties, but various villages also pride themselves on their own recipes. North of Luang Prabang sits Ban Xang Hai, also known as the Whiskey Village, which tells you all you need to know about what is produced here.
Find it at the Night Market and Ban Xang Hai.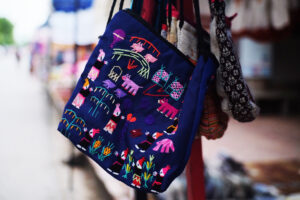 Handbags
Many of the night markets in Laos particularly Luang Prabang have a dizzying array of styles and materials from jungle vine market bags to elaborate evening bags with tribal embroidery, beadwork, tassels, pom poms, and bells. Many incorporate traditional designs and needlework. If you don't need a large bag there are also cute zippered Hmong wallets with ethnic embroidery depicting rural scenes. These are quite reasonably priced, considering the work and detail involved.
Find them at boutiques and the Night Market.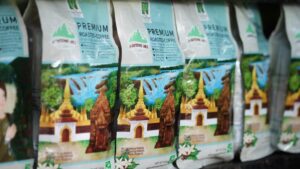 Lao Coffee
Neighboring Vietnam with its long-held title of the best coffee in Southeast Asia is a hard act to follow in terms of producing outstanding coffee. Laos has begun to hold its own with its expanding global presence on the market. Coffee plantations set amongst the otherworldly mist and waterfall-covered Bolaven Plateau in southern Laos are rapidly helping to promote the area as becoming a new ecotourism destination and coffee shops are popping up all over the country showcasing Laos' best beans.
Find it at the Night Market, cafes, and supermarkets.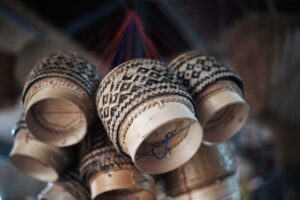 Sticky Rice Basket
How could you come to Laos and not take home a rice basket? If there ever was a symbol of Laos this is it. Sticky rice is the backbone of Lao culture and every household has several baskets. Sometimes, people even use them to store garlic, onions, or potatoes as it allows the air to circulate yet keeps out the light.
Find it at the Night Market or Morning Market.
Beerlao Shirt
We have to include this. Beerlao's famous marketing slogan was once "Beer of the Wholehearted People" We like that, keep the flag flying and promote Laos' most famous product around the world!
Find it at the Night Market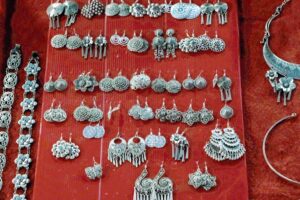 Silver Jewelry
Many pieces of jewelry are available which reflect traditional designs of various ethnic groups. The Hmong people are especially fond of decorating themselves in ornate and bold silver jewelry. In the past, their wealth was worn in silver and as amulets against evil spirits. You can find many items such as the lock necklace or the spirit lock pendant available at the night market. Shops on the main street have beautiful traditional silver jewelry incorporating semi-precious stones and silk.
Find it at the Night Market, boutiques, or the silversmiths near Wat Houa Xieng.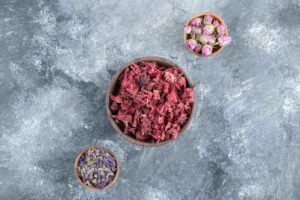 Dried Rosella
Visitors fall in love with the tart juicy berry flavor of the buds of the hibiscus flower. Reconstitute by boiling with water and sugar to taste until you have a rich red cordial. Use as a tea or in cocktails or take advantage of its many health benefits including its powerful antioxidant and blood pressure lowering properties.
Find it at the Morning Market.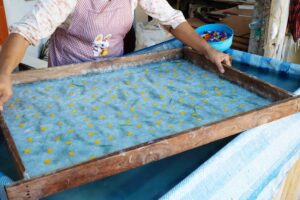 Sa Paper
This traditional paper is made from the bark of the mulberry tree, whose leaves also provide food for silkworms. Sa paper is quite versatile and can come in many forms including lanterns, journals, photo albums, and large sheets for gift wrapping. See the paper production process in Ban Xang Khong just upstream from Luang Prabang which is a lovely area to spend an afternoon off the usual tourist circuit.
Text & Photographs by: Anita Preston / Evensong Film