Reconnecting through food.
The shared experience of preparing food and eating together binds us like no other. It is an essential part of our most joyous celebrations, and when friends and family are reunited. Relationships begin over candlelit dinners; the spurned placate themselves with indulgent sweet treats. Food is also the touchstone of comfort and culture for migrants finding their place in new lands. Many, of course, open restaurants, introducing us to exciting new ingredients, vibrant flavors, and ways of eating.
Interestingly, the wave of migrants that left Laos for America in the late 70s and early 80s kept their kitchen secrets to themselves. At the time, little was known about landlocked Laos, let alone its cuisine, so those with a talent for cooking opened Thai restaurants in their new homeland. Fast-forward a few decades and it's true to say there has been a culinary and cultural awakening within America's Lao community. As a popular hashtag declares, they are #laoandproud and determined to spread the word about the country's distinctive and delicious food.  
One of the first to emerge was Chef Seng Luangrath. Seng always had a passion for cooking, a skill she learned at a tender age in a refugee camp at Nakhon Phanom, Thailand. However, it wasn't until 2010, encouraged by friends and family, that she opened the Thai restaurant Bangkok Golden in Washington DC. Despite its success, Seng hungered to shine the spotlight on her own cuisine. She felt that the time was right. People were more well-traveled and open to new food experiences. What's more, an emerging generation of Lao-Americans was striving to assert their identity. And what better way than through food?
Seng started the Lao Food Movement with the aim of educating Americans who want to learn more about the country and its cuisine. Using social media as its window to the world, it now has more than 17,000 followers on Instagram. More importantly for Seng personally, however, was the decision to reinvent her restaurant from "Bangkok Golden" to "Padaek" and introduce a menu of Lao food.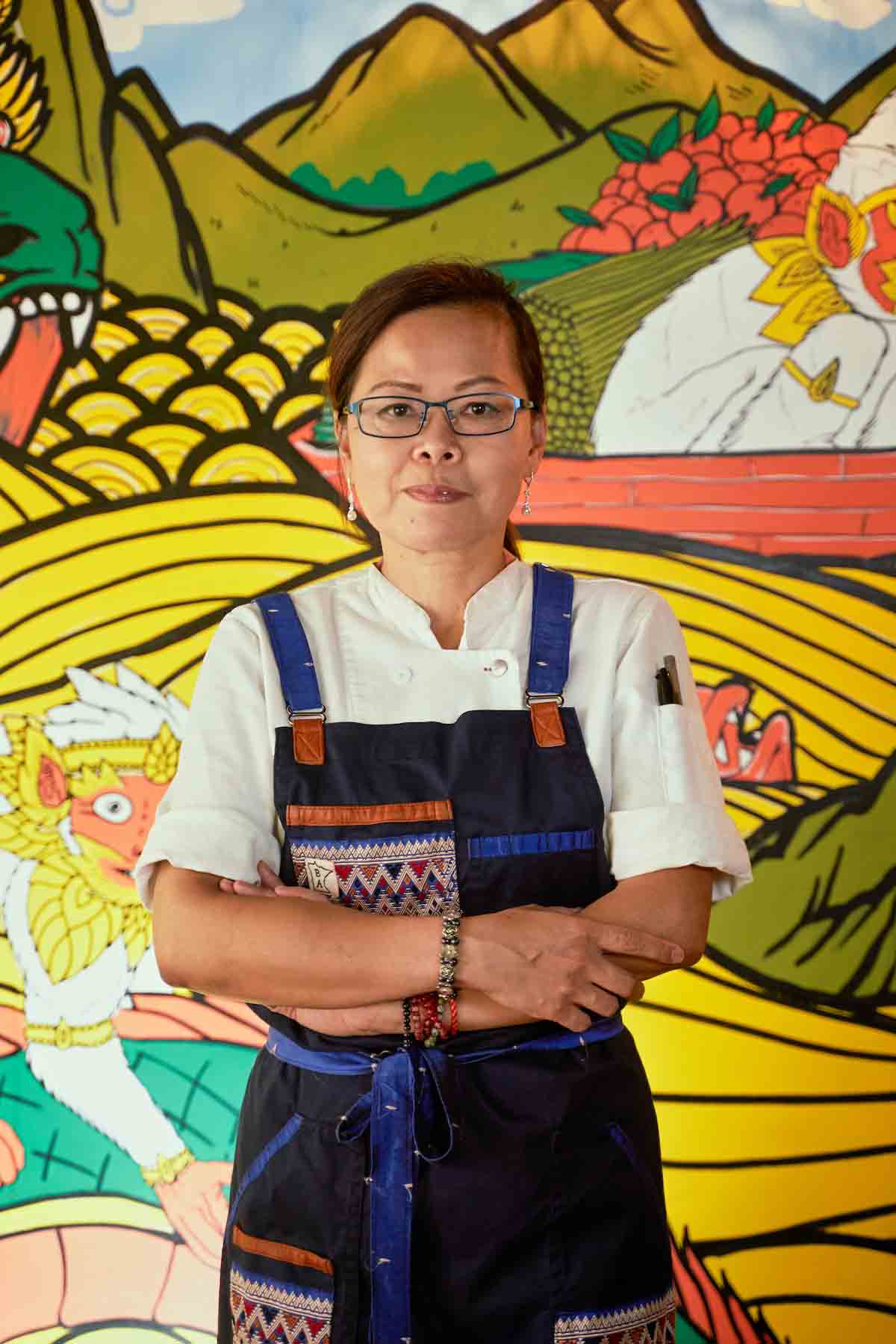 Another key moment came last year when Seng met up with Channapha Khamvongsa, an inspirational figure who founded Legacies of War, a Washington D.C.-based non-profit, non-partisan organization dedicated to raising awareness about the history and ongoing effects of the Vietnam War-era bombings in Laos through the use of art, culture, education, and advocacy. Channapha was looking for a new challenge and seized the opportunity of a growing community of passionate, knowledgeable people in Laos and abroad to organize this retreat. Seng and Channapha wanted participants to exchange ideas about the valuable role of Lao food in the lives, culture, and economy of Laotian people everywhere.
In February 2020, chefs and leading figures committed to promoting and preserving Lao cuisine gathered in Luang Prabang for the inaugural event, the Lao Food Foundation Retreat. Over seven days, Lao-Americans and locals joined lively discussions, made field trips to farm and food producers, and cooked and dined in restaurants.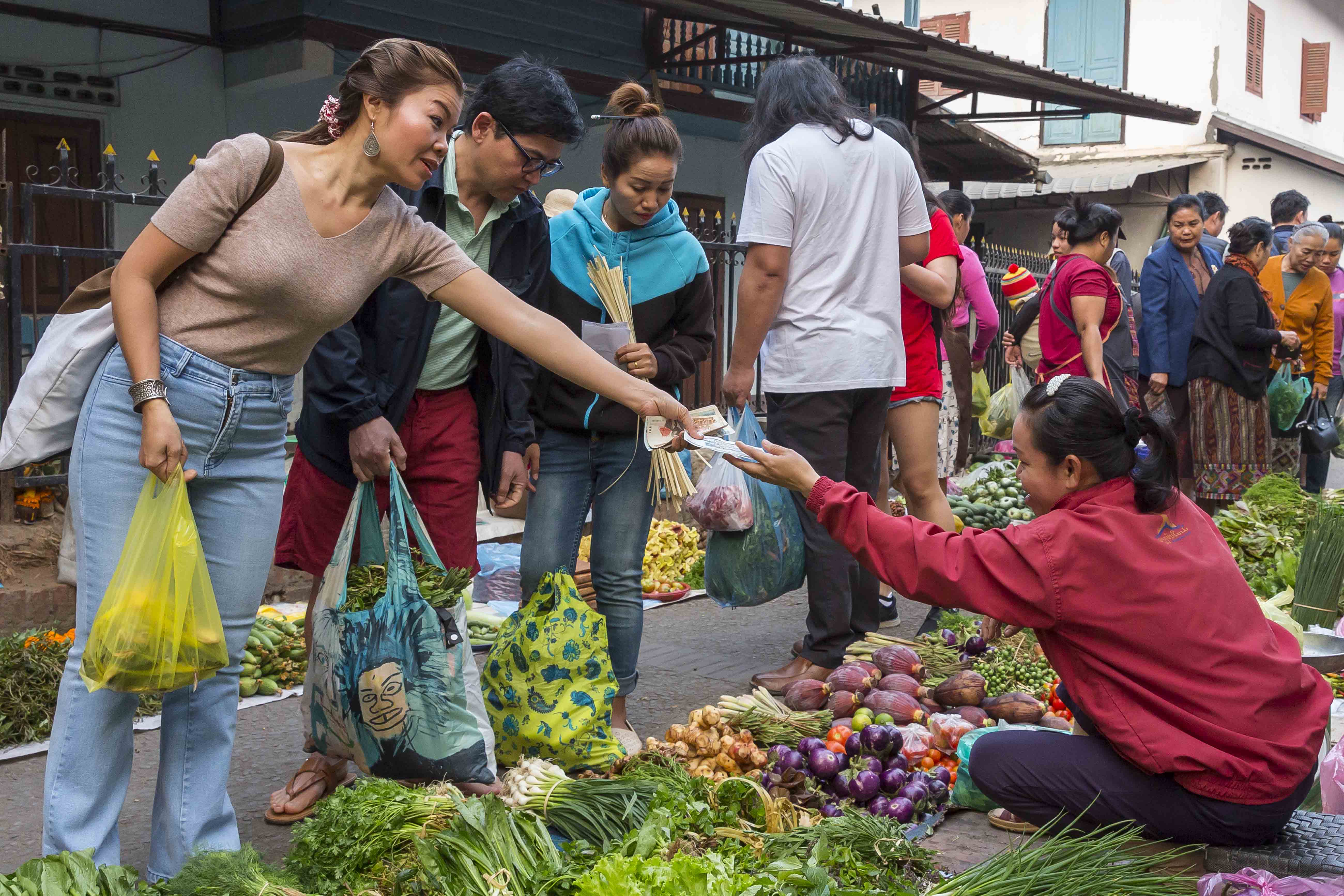 Key members of the foundation include Dr. Phitsamay Sychitkokhong Uy, associate professor at the College of Education and co-director of the Center for Asian American Studies at the University of Massachusetts-Lowell. She is also the co-founding director of the Southeast Asian Digital Archive and a research fellow at the Asian American and Pacific Islander Research Coalition (ARC). Also on the academic side is Dr. Liza Cariaga-Lo, one of the Lao Food Foundation retreat sponsors and the CEO and Founder of The LCLO Group, which is seeding initiatives in SE Asia focused on the future of work, including Laos. Liza, who is currently completing work on a book about the identity development of Asian Americans, said of the retreat, "Our aim is to support and document the leadership and scholarship in the nascent field of Lao foodways – the how, who, where, why, and when Lao food is prepared."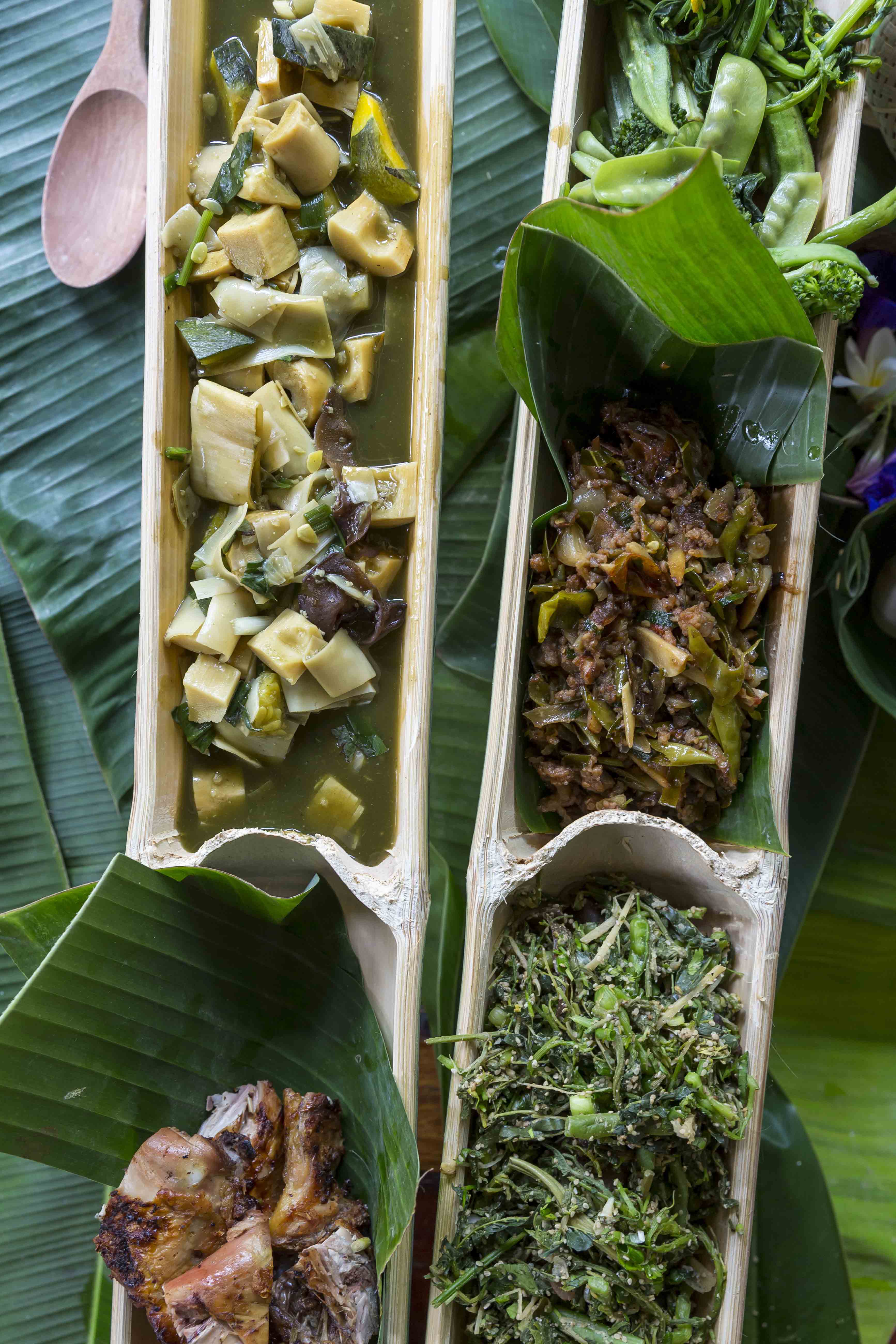 Of course, a food retreat would be nothing without chefs. The line-up included Chef Soulayphet 'Phet' Schwader, the chef/owner of the critically-acclaimed Khe-Yo in TriBeCa, New York, a restaurant renowned for showcasing modern Lao cuisine, Chef Ann Ahmed, chef/owner of the award-winning Lat14 and Lemongrass restaurants in Minnesota, and Chef Deth Khaiaphone who was born in Savannakhet but grew up in San Diego, California. Deth, a consultant for a high-caliber restaurant group in Washington, DC, says "I feel privileged to have grown up influenced by mom and dad, my first cooking teachers, and learn the ethos of lieng, to offer nourishment. Today, I seek to honor the traditions of Lao cuisine while still incorporating modern influences." Itsara Ounnarath, a retired US Army veteran who established White Tiger Distillery in Forest Hill, Maryland, the only distillery making Lao-style whiskey in the United States, brought his enthusiasm and a bottle of his award-winning whiskey for everyone to try. There were also younger names from Instagram and Youtube channels including Ava Bruin from 'Cooking Out Lao' and Saeng Douangdara of 'I Am Saeng', both from Los Angeles, with a combined 30,000 social media followers.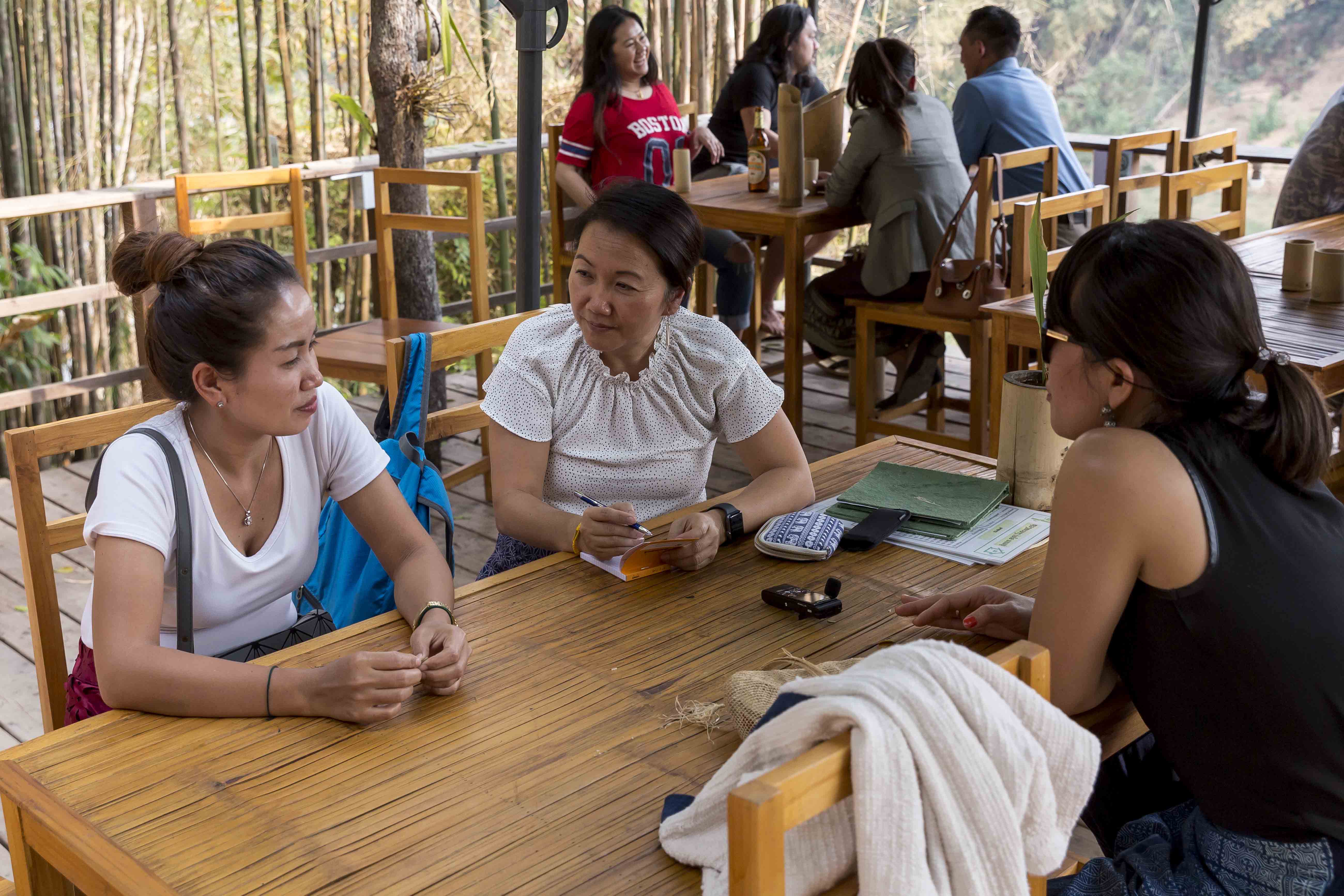 On the home front, was Ponpailin 'Noi' Kaewduangdy, the owner and chef at Doi Ka Noi restaurant in Vientiane, and her key team member Teh Kaewsuwan. She grew up in a rural subsistence farming community in Khammouane province and inherited her incredible culinary repertoire and knowledge from her grandmother. Noi expanded the visitors' understanding of Lao cuisine with a fascinating slide show and talk about the numerous foraged and unusual ingredients she uses at her restaurant. Other key participants included the chefs and owners from Vanvisa at the Falls, Kualao, Lao Derm, Le Padaek, Bamboo Tree, Tamarind, Ock Pop Tok, and Panyanivej Organic Farm.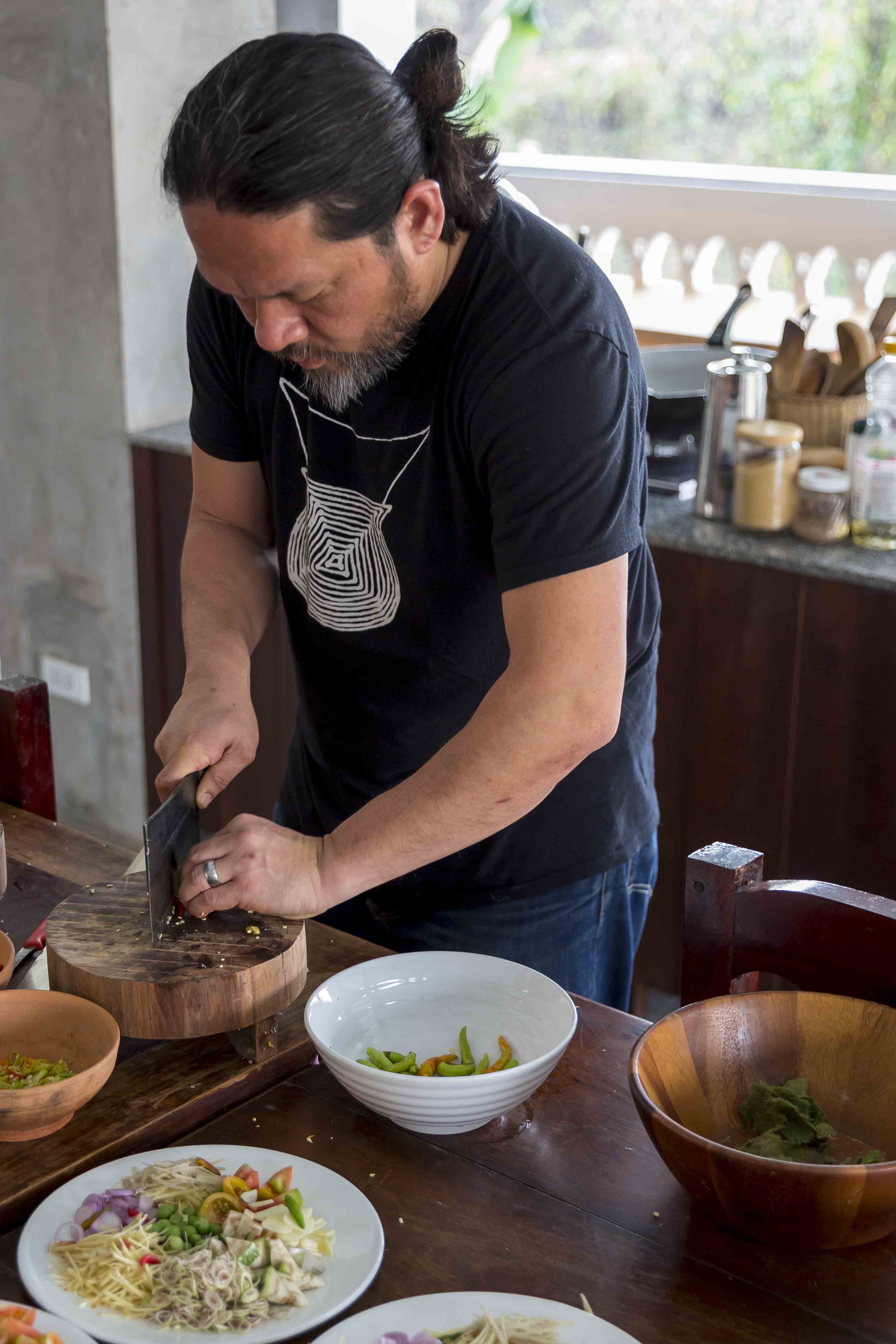 There were many highlights at the Luang Prabang retreat but those that stand out most include a visit to a riverside village to see khai phen river weed being harvested, processed and made into sheets, a fantastic lunch at Luang Prabang Bio Bamboo that included 14 distinctly different dishes made from bamboo, and a dinner of Doi Ka Noi's fresh, seasonal cuisine cooked by Noi with the assistance of visiting chefs for attendees and invited guests including Mr. Peter Haymond, the new US ambassador to Laos and his wife, Dusadee.
In all, more than 20 attendees at Lao Food Foundation had fun, informative, and inspirational experiences in Luang Prabang. Connections were made, friendships were formed, and everyone was left hungry for more. 
MORE INFO
The Lao Food Foundation: 
Instagram: @laofoodfoundation
Lao Food Movement:
Instagram: @laofoodmovement 
Luang Prabang Bio Bamboo: luangprabang-biobamboo.com
Doi Ka Noi restaurant: 
Facebook: DoiKaNoi / Instagram: @doikanoi
Khe-Yo restaurant: 
kheyo.com / Instagram: @khe-yo on 
Cooking Out Lao: 
Instagram: @cookingoutlao
Saeng Douangdara: 
Instagram: @iamsaeng
White Tiger Distillery: wtigerd.com
The Lao Food Retreats outstanding itinerary
was organized by Volun Tour Laos:  voluntourlaos.com
Text & PHOTOGRAPHS BY Mick Shippen