A culinary journey through Central Vietnam
Savory seafood, aromatic herbs, exotic spices, piquant sauces, and crisp, colorful vegetables – Vietnamese cuisine has it all. The food of central Vietnam is particularly renowned for its prominent use of fresh herbs and spices grown in the inland mountains, as well as the bounteous fish and crustaceans of the long coastline and many rivers. Now with the re-establishment of Lao Airlines' direct flight from Vientiane to Da Nang, the flavors of central Vietnam are barely an hour away! Let's take a look at some of the best local dishes that Da Nang and Hoi An have to offer, and where to enjoy them!
Just a quick seaside drive from Da Nang, the ancient town of Hoi An boasts its own local flair for cuisine. Orivy Restaurant specializes in local delicacies and is located just a block from the touristic bustle of the central 'old town' area, across the street from a scenic lagoon.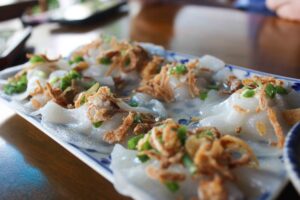 To start, bánh vạc Hội An (The white rose dumpling) is a must-try dish. This dumpling is as elegant as it is delicious, with a delicate and nearly translucent tapioca and rice flour skin enclosing a harmonious combination of minced pork, shrimp, and wood ear mushrooms, topped with powerfully savory roasted shallots and fresh green onions, and balanced by a gently sweet and sour dipping sauce. The simplicity and beauty of this dish is rivaled only by its amazing taste and satisfying texture.
For a more hearty main dish, cao lầu noodles are among the most authentic of Hoi An's local dishes. These thick noodles are made from a combination of rice and wheat flour, which gives them a uniquely satisfying chewy texture. The rich and unctuous pork bone broth, flavored with star anise, is a perfect complement to the sliced char siu pork, parboiled bok choy, and crispy fried pork rinds atop the noodles. This symphony of flavors and textures is an essential part of experiencing the authentic flavors of central Vietnam.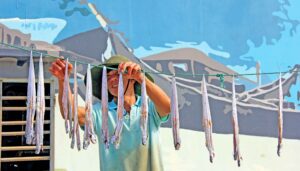 Orivy Hoi An Local Food Restaurant is located at 546 Cửa Đại, Cẩm Châu, Hội An, and opens daily from 11:00 am until 9:30 pm.
Our search for central Vietnam's best bánh xèo takes us first to Quán Bà Ngọc Huế (or, "Ms. Ngoc's Hue-style Restaurant"), a tidy little family operation located a bit north of downtown. Bánh xèo is a kind of Vietnamese omelet that is sure to tantalize your taste buds. This savory pancake is made with eggs, rice flour, coconut milk, and turmeric, which gives it a rich, golden hue. Like all bánh xèo, Ms. Ngoc's are filled with a variety of ingredients such as pork, shrimp, bean sprouts, and herbs—however, they are roasted extra crispy such that each bite is bursting with textural delight. The typical accompaniments of fresh, leafy vegetables, and a tangy and sweet dipping sauce, create the perfect balance of flavors. Whether you're a connoisseur of Vietnamese cuisine or looking to try something new, Ms. Ngoc's bánh xèo is sure to delight your senses and leave you craving more.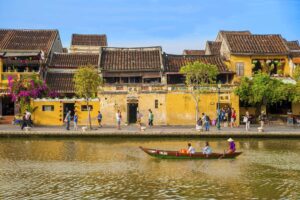 Another house specialty is bò nướng lá lốt (or just bò lá lốt), a popular southern and central Vietnamese dish, which is a kind of cuốn, or rice-paper spring roll. This exotic dish features tender and juicy beef wrapped in fragrant betel leaves, which are known for their unique and complex flavor. The beef is marinated in a blend of spices, including lemongrass, Chinese five-spice, garlic, and chili, giving it a bold and savory taste. The betel leaves, which have a peppery and fragrant herbal quality, are then carefully wrapped around the beef, creating a beautiful and aromatic
cigar-sized package that is then grilled to perfection. Served with a side of fresh herbs, lettuce leaves, shredded papaya and carrot, and a peanut dipping sauce, each bite of bò lá lốt is an enchanting combination of flavors and textures. This dish is perfect for those looking to explore the more exotic and unusual flavors of Vietnamese cuisine.
Quán Bà Ngọc Huế is located at 228 Đống Đa, Thuận Phước, Hải Châu, Đà Nẵng and opens daily from 8:30 am to 10:30 pm.
While cuốn, also known as spring rolls, are not entirely specific to Danang, they are such a delicious and refreshing appetizer that central Vietnam has come to boast some local varieties. Bếp Cuốn Đà Nẵng (or "Danang Spring Roll Kitchen") specializes in bánh tráng cuốn thịt heo, or pork and rice paper rolls. These mouth-watering appetizers are made by wrapping thinly sliced grilled pork belly, lettuce, cucumber, and a generous portion of herbs such as mint, cilantro, and sawtooth coriander in a sheet of delicate rice paper. The rolls are served with a rich and savory hoisin dipping sauce that perfectly complements the fresh and crisp ingredients. Each bite is a burst of flavors and textures, with the tender pork, crunchy vegetables, and refreshing herbs all coming together in perfect harmony. Be sure to wash it down with a glass (or several) of the house's special beverage, the thirst-quenching tangy virgin passionfruit mojito. Whether you're new to Vietnamese cuisine or a seasoned fan, bánh tráng cuốn thịt heo is a dish that is sure to leave you craving more.
Bếp Cuốn Đà Nẵng is located at 54 Nguyễn Văn Thoại, Đà Nẵng and opens daily from 10:00 am to 09:00 pm.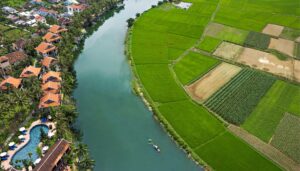 GETTING THERE
Lao Airlines has regular flights between Vientiane and Danang.
Text BY Evan Dixon
PHOTOGRAPHS BY Manyphone Vongphachan / Quang Nam Tourism