Shift into high gear with Ford
Traveling in airplanes is certainly fast and convenient, but to help you reach places farther afield, there is Ford Laos. Distributed in the country by RMA Laos, Ford has continually lifted the standard of excellence and service in the automotive sector, while offering the best in American engineering.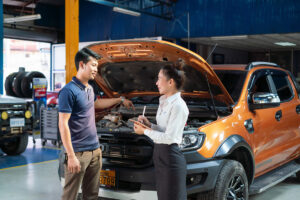 Headquartered in Bangkok, RMA Group is a leading provider of automotive, equipment, services, and food brands in Southeast Asia and the group now serves 14 countries throughout the region. RMA Group first made inroads into Laos in 1994 supporting infrastructure developmeant projects across the country. "At that time, we began with only a small number of staff based in Vientiane," recalls Mr. Wayne McIntosh, Automotive Director at RMA Laos. He adds, "since then we have grown consistently year-on-year, and now are proud to employ
632 people throughout the country."
In Laos, the company has brought in a very diverse portfolio of brands. In the automotive sector, RMA is the authorized distributor of Jaguar, Land Rover, Mahindra, and since 2001, Ford vehicles. These include popular pickups like the Ranger Raptor and Wildtrak, as well as commercial vehicles, such as the Transit, Happy Bus, Executive Bus and an array of vans. Ford vehicles are available for a test drive at Lao Ford City dealerships located in Luang Prabang, Vientiane, Savannakhet, and Pakse.
Pricing is strategically optimized to offer the lowest total cost of ownership for Lao customers and financing solutions are available through RMA's subsidiary BSP-Devco. Ford's in-house team of mechanics offer fast and efficient after-sales service and maintenance at authorized service centers at each Lao Ford City. The company also owns Quicklane, offering total vehicle service and routine maintenance solutions for any brand of automobile, from tire replacement to oil changes to new batteries to air-conditioning repair.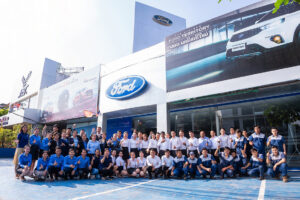 "Lao customers are demanding longer intervals between maintenance checkups, greater fuel efficiency, and extended warranties combined with Roadside Assistance, in the rare instance there is a breakdown," said McIntosh. Customers who are located far away from a service center can take advantage of Ford's Mobile Workshops around the country, a special service to provide tailormade on site full service and maintenance solutions at any location.
Besides offering a diverse array of vehicles and a full package of financing and maintenance options, what is the secret to RMA's success? "It's easy," said McIntosh, "for 27 years, RMA Laos has been fortunate to have a great team who looks after our customers and delivered a superior level of service. Our winning formula begins with our people."
TEXT  BY Jason Rolan
PHOTOGRAPHS BY Phoonsab Thevongsa