Sustainable selections to ensure holistic wellbeing.
On-anong Homsombath was crowned Miss Universe Laos 2018 and went on to help promote Laos to the world. Growing up here and traveling throughout Laos has inspired her to preserve the local culture and promote the beauty of her country.
She says, "these difficult times have allowed us the opportunity to gaze within and reconnect with Laos. With a little searching, one can find a myriad of holistic and sustainable products which are locally-produced using Lao materials." 
Her wealth of information in this area has helped curate this selection of natural sustainable products, which is far from exhaustive but can help improve your life while also not damaging the environment.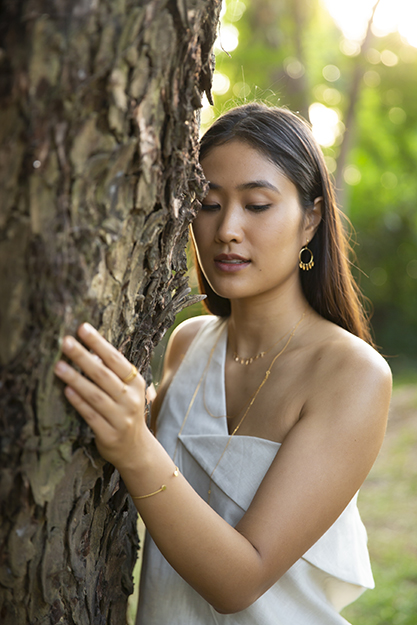 On-anong continued, "Nature is our soul, and our lifestyle is our choice. As a Lao local, I would like to support local and eco-friendly businesses. We can all be part of sustainable development and advocate for environmental protection. It starts with our everyday choices."
In short, these products are good for you, for the local producers, and for the planet.
There are many options for health and beauty products made locally in Laos
Superpower serums from Lao Clean Beauty (laocleanbeauty@gmail.com) are made in Bokeo Province from 100% natural herbs and spices and absolutely no chemicals, preservatives, or additives.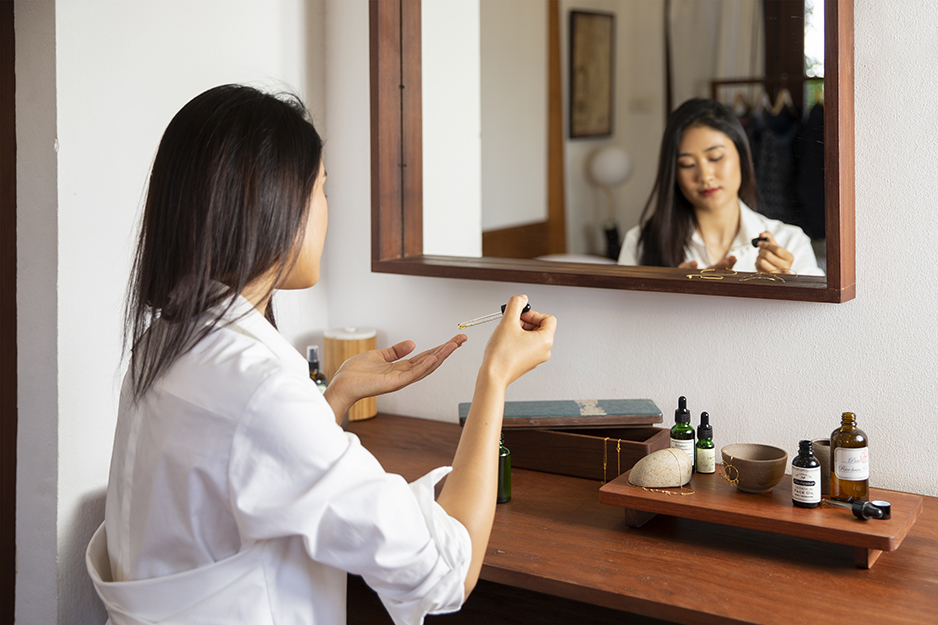 Nefertiti eye and lip serum visibly reduces puffiness, for day and night (made of caffeine that helps reduce eye contour pigmentation and catechin as a strong anti-aging agent.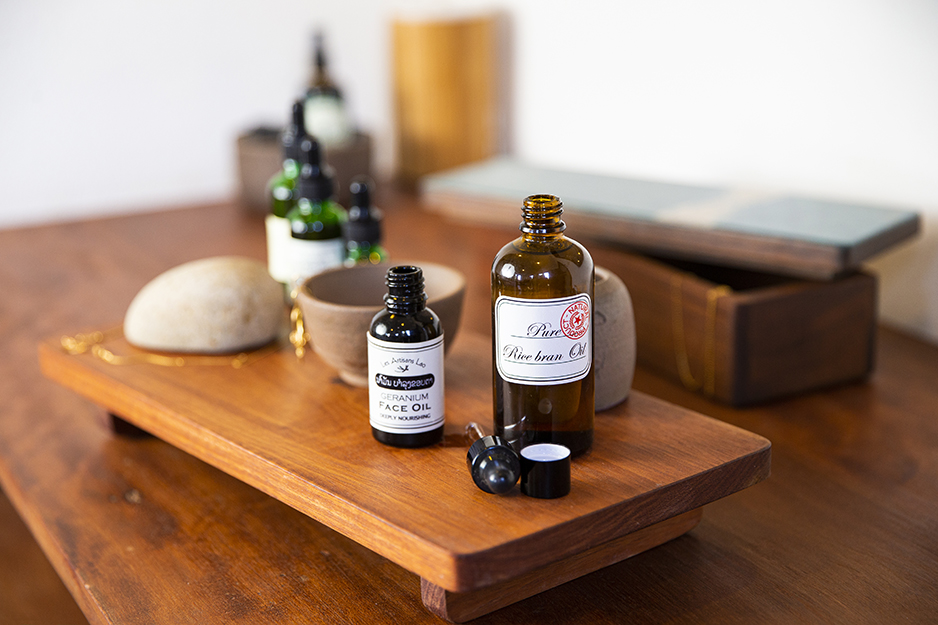 SipSongPhanNa deep-nourishing anti-UV serum is a natural sunscreen for even-toned and fairer skin made of a natural sunscreen and skin lightening compound, as well as thanaka, an anti-UV product made from tree bark.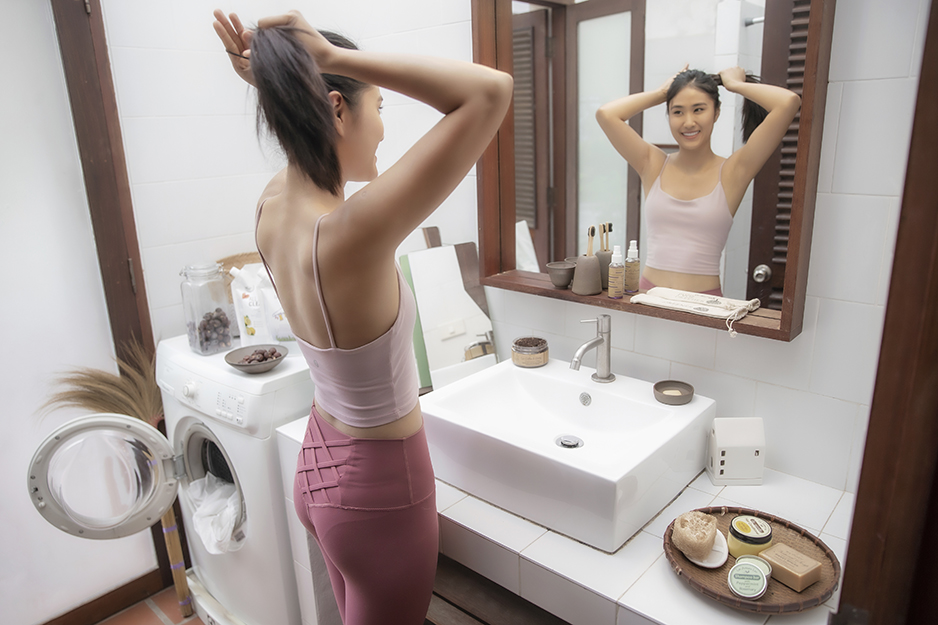 Incorporating natural Lao products into your daily routine helps you feel better
1 A bamboo toothbrush from Greener Laos keeps your teeth clean and reduces plastic waste.
2 A refreshing and moisturizing spray from Lao
Natural made from coconut water, butterfly pea,
and cucumber.
facebook.com/laoproduct
3 A body scrub by Lao Natural made from Lao
coffee and honey that helps detoxify the skin
and reduces temporary cellulite.
4 Mango butter hair conditioner nourishes and refreshes without weighing down your hair.
5 A natural tonic shampoo bar made of peppermint and rosemary can be used longer and requires less packaging than liquid shampoo. 
6 A natural bar of aromatic cinnamon soap from
Les Artisans du Laos adds zest to your morning.
7 Thaan Fun Organic Farm produces a natural laundry soap, an all-in-one cleaner, and also a dish soap with reusable packaging that can be refilled directly at their shop. It is made of Lao herbal ingredients with beneficial microflora that can bring healing to both the body and the environment.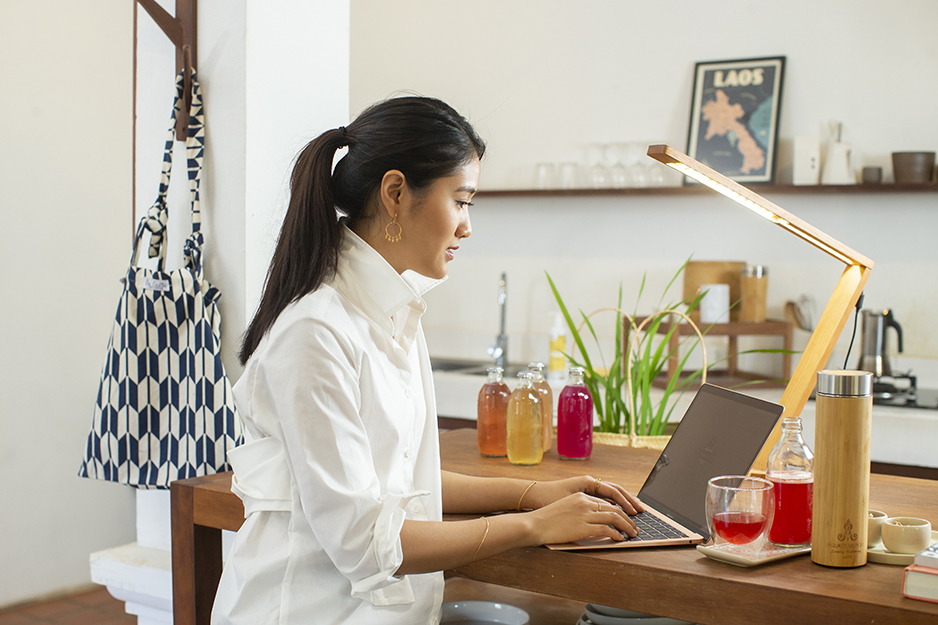 While in Laos, also try some sustainable and healthy activities
The Organic Sauna offers a chance to indulge and relax in a lovely garden setting in Vientiane's
Dongnasok Tai Village.
facebook.com/thebestofsaunaintownvientiane
Learn the meditative art of Kintsugi, the Japanese art of repairing broken pottery with powdered gold, taught by Marie-Do Hyman-Boneu at her studio in Vientiane.
Also, stay up to date on other
sustainable options to enhance
your life by following
ECONOX 
Plastic-free Laos 
Text by Vanida Phimphrachanh & Jason Rolan 
Photographs by Phoonsab Thevongsa